Key point: product origin
Some products on sale in downtown Nouméa stores and souvenir shops may look like authentic New Caledonian products but they are imports and not genuine at all.
So take care in checking where your souvenir gifts come from !
ARDICI logo-stamped items are limited series, made-to-order or one-off pieces crafted by local professionals and offer you the following guarantees :
Products made to the highest traditions of New Caledonian craftsmanship, requiring technical skill and expertise
Products made, modelled and finished in New Caledonia
Businesses recognised and approved by the New Caledonia Chamber of Trades and Crafts
Designers and craftspeople who draw their inspiration from the beauties and resources of our island country
Products rooted in and sourced from New Caledonia's local economy through direct distribution channels.
Wooden craft from New-Caledonia
Travelers going back to Australia are able to bring wood items from New-Caledonia as personal consignments without an import permit or phytosanitary certificate if wooden crafts and packaging are free of biosecurity risk material such as mentioned in the document below.
For further information consult the Australian web site here.
Download the certificate
Check out our iconic products
Here is a non-exhaustive list of New Caledonian handcrafted products ideal as gifts for friends or family or as a treat for yourself.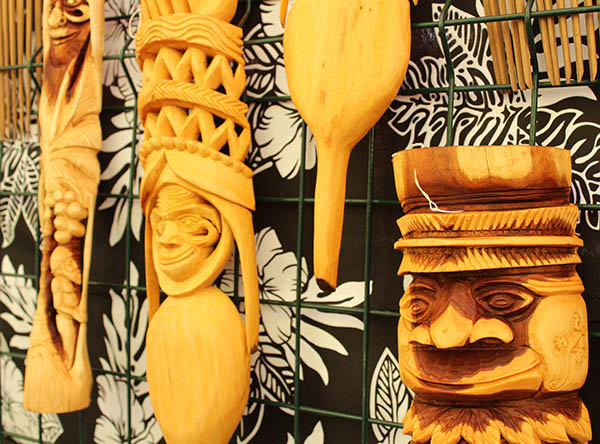 Sculptures & carvings
The rooftop totems which adorn the apex of traditional huts reflect the great significance of woodcarving in Kanak culture: an ancestral tradition, a symbol of clan identity and a tribute to the ancients. A sculptor in wood must master many skills: choosing the perfect type of local wood, shaping the design, preparing the base, sanding, applying finishes and polishing the completed artwork. The two species of wood most commonly used by woodcarvers in New Caledonia are gaïac and rosewood. Sandalwood, in the Loyalty Islands, and houp are used more rarely.
Articles in local wood
Kohu, kauri, houp, gaïac, column pine... New Caledonia boasts an abundance of local wood species. The crafting of wood reveals the secrets hidden within the precious raw material, and artisans give full rein to their creativity with through their woodturning skills, creating furniture and decorative items, traditional or innovative sculptures, picture frames or musical instruments.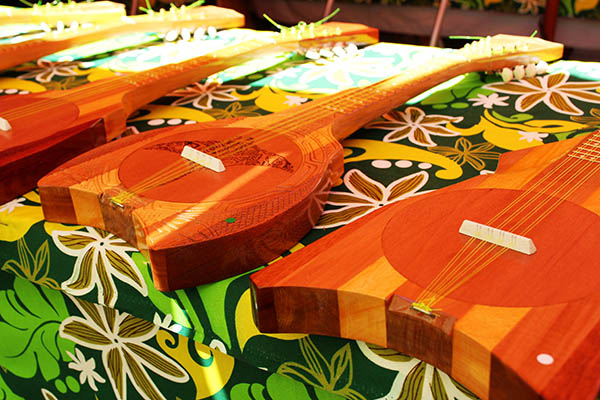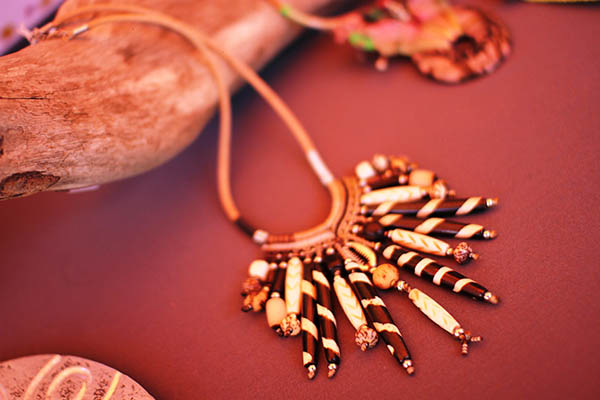 Jewelry made from seeds, shells, local stones or precious metals
Slate pencil urchins, local seeds, seashells, feathers... a host of natural materials which become charming pieces of jewellery in the hands of skilled artisans. You will easily find nature-inspired jewellery like this in New Caledonia's local markets, to take home as delightful souvenirs of your stay. New Caledonia is blessed with a lavish profusion of natural stones, embellished by artisan gemcutters who create unique pendants and necklaces from Bourail bluestone, mauve marble from Koumac and jade from the Blue River.
Woven artworks
Pandanus and coconut palm leaves, rushes and a variety of plants can be woven to create practical or decorative articles: bags, cases or sheaths, hats, fans, hanging mobiles, paniers, baskets... Traditional weaving skills are passed down by women from one generation to the next. Woven pandanus mats are used in customary ceremonies, with the woven strands symbolising the bonds woven between people. You will find mats in various sizes, each designed for a specific occasion.
Please note: Due to Australian and New Zealand plant health regulations, you won't be able to take woven articles back home to either country.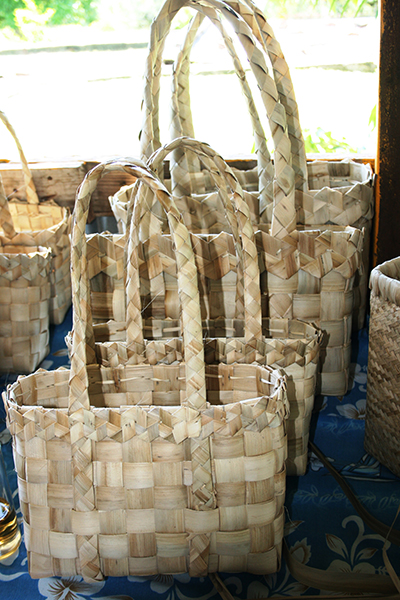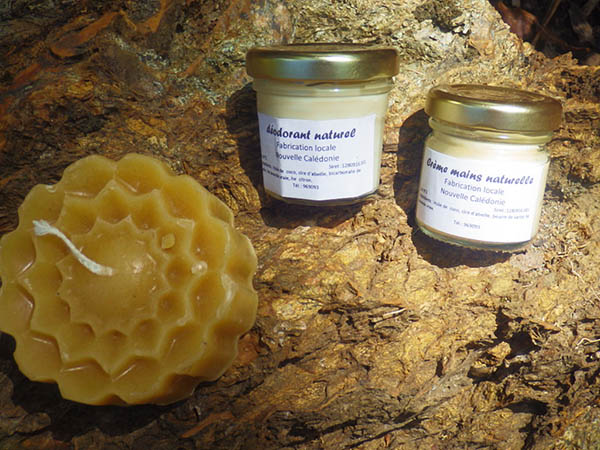 Beauty care products made from New Caledonia's natural resources
Creams, perfumes, deodorants, soaps... A range of beauty care products are created and prepared by local artisans committed to environmentally friendly, sustainable skin care and beauty. Their watchword: natural compositions containing ingredients sourced from New Caledonia's forests, beaches and gardens: niaouli, tamanu, gaïac, sandalwood, aloe, frangipani and tiaré blossoms, sand... and also coffee, vanilla, coconut, and even propolis and beeswax from local hives.
Essential oils
Tamanu, candlenut, sandalwood and niaouli, icon of the New Caledonian outback and traditionally prized by Kanak communities for its healing and disinfectant properties... Our island country is blessed with a wealth of species possessing precious virtues. Nowadays, the leaves are distilled to extract essential oils to soothe and heal, beautify our skin and enhance our wellbeing.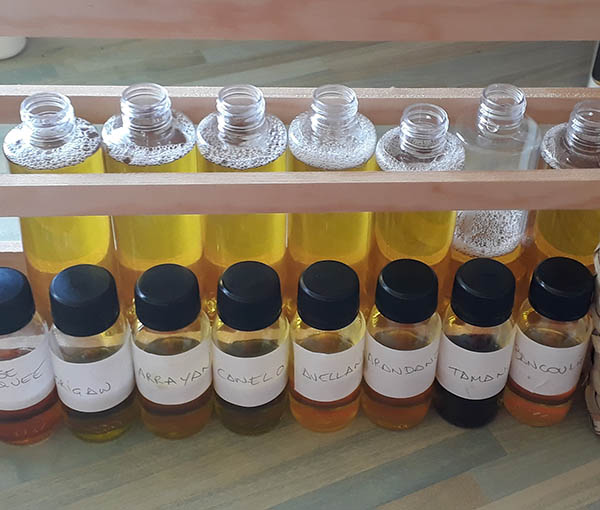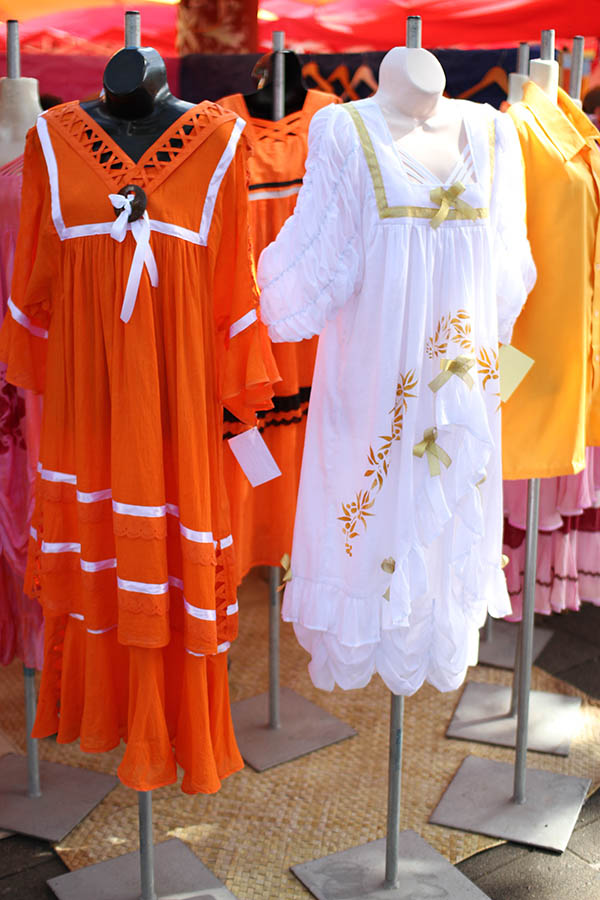 Mother Hubbard dresses
Mother Hubbard dresses are long and loose; they have modest round necks and are usually brightly coloured. They were introduced by 19th Christian missionaries who judged female native garb to be unseemly. Today, Mother Hubbard dresses are worn proudly as a symbol of Melanesian femininity. Originally, only Kanak women wore the garment, but other women followed suit and the basic design has grown more innovative. The same applies to Tahitian dresses, which are now seen as an emblem of traditional craft skills and Oceanian creativity.
Hand-painted "manous" and sarongs
A "manou" is far more than a piece of brightly coloured cloth, it plays a central role in Kanak customary ritual. Accompanied by tobacco and a small amount of money, a manou is given as a customary gift. In some customary areas, it has been replaced by a woven pandanus mat. This "customary gesture", which precedes any spoken exchange, is a mark of consideration and respect between host and guest. It is an ancient customary ritual reflecting Melanesian cultural tradition. Today, manous have also taken on a new life as attractive sarongs hand-dyed or decorated with painted designs by local artisans. They make delightful souvenirs!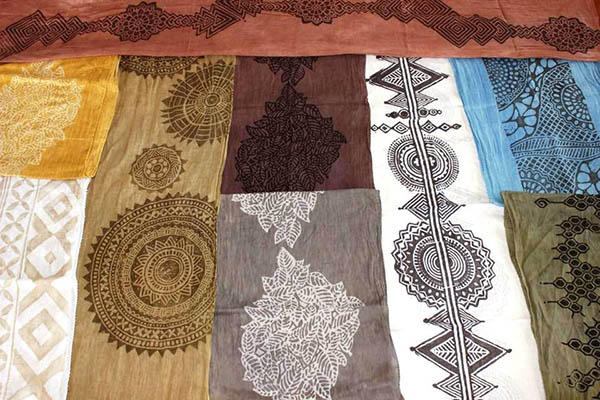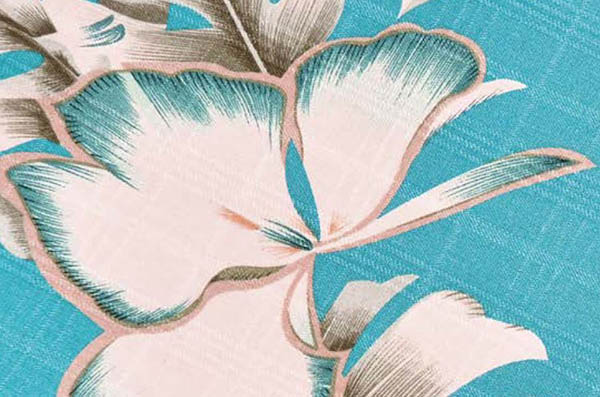 Fabric fashions and accessories
Local designers create and make - from start to finish - apparel and accessories for adults and kids, blending on-trend style with Oceanian tradition and a hint of French elegance. They use materials inspired by New Caledonia's natural beauties: fabrics are hand-dyed using craft methods and adorned with beads, shells and lace... Designs can be made-to-order at the customer's request.
Handcrafted leather goods
With its many and varied textures and hues, leather lends itself to delicate work enhancing its supple, sensual appeal. Our experts in leathercraft design one-off and limited series articles for day-to-day use. Sheaths for knives or machetes, saddles and cowboy belts are an integral part of New Caledonia's bush cowboy traditions and way of life.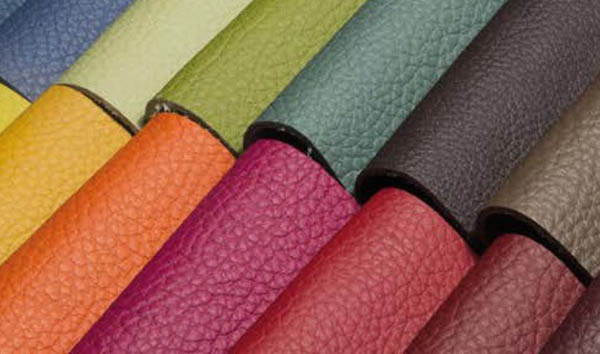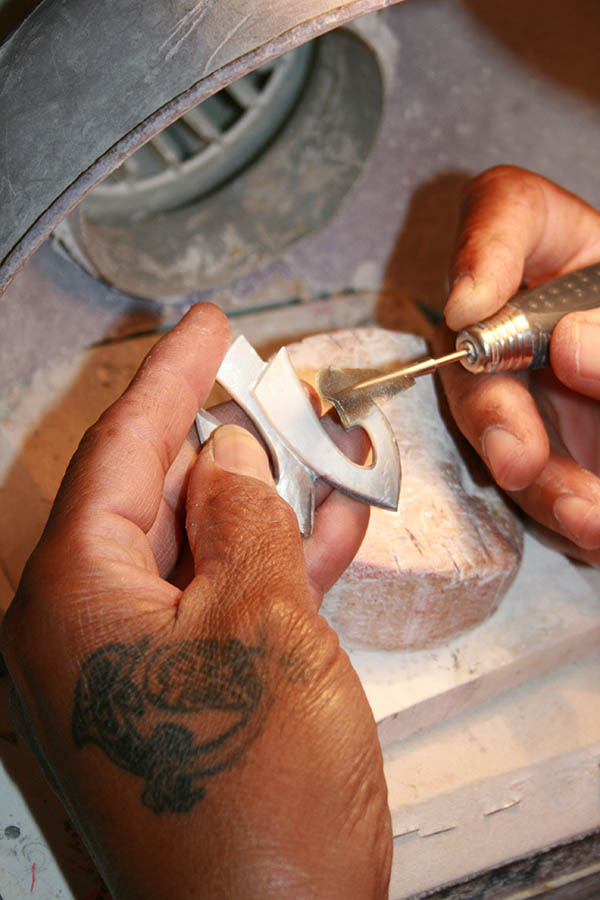 Engraved mother-of-pearl, shells and Megalodon teeth
Carcharocles megalodon, an impressive ancestor of the great white shark, was around 18 metres long! The fossilised teeth of this ancient giant of the seas can measure up to 20 cm long. A deposit of several thousand teeth was discovered at a depth of 500 metres off the coast of New Caledonia. Such giant teeth make unusual and intriguing artworks, polished, engraved, made into a pendant or framed. Engravings on mother-of-pearl are an art form going back to the 19th century and the days of the penal colony, when convicts engraved shells in secret to be smuggled to local buyers as a stealthy way of making a little money.
Soapstone
Soapstone is fairly difficult to quarry but is soft and easy to carve. Local artisans use it to create a variety of artworks, including small-scale sculptures portraying traditional huts and doorposts or New Caledonian plant and wildlife species. Pouébo, on the East Coast of the North Province, is famed for its soapstone statuettes, which have proved very popular with tourists visiting the Main Island.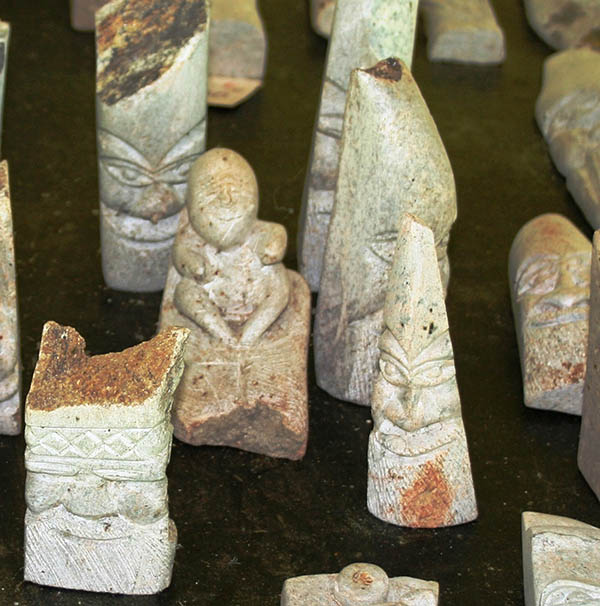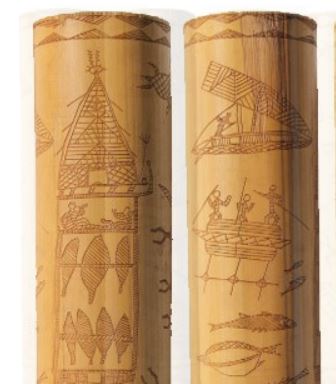 Bamboo engravings
Intricately engraved bamboos are just one of the fascinating art forms mastered by bygone Kanak craftsmen and they played a key role in recording important events in an oral culture. Engraved canes collected in the late 19th century date back to the time Europeans first arrived in New Caledonia and show scenes of historic and ceremonial significance or everyday scenes: markets, colonial houses, fishing, building huts and work in the fields. A number of local artisans create and sell decorative items inspired by these historic artefacts: contemporary bamboo engravings, prints and paintings.
Tapa barkcloth
Tapa is the name given to the delicate, intricately decorated cloth made from the bark of the paper mulberry tree. Tapa is traditionally made by women; strips of beaten bark are sown together to make cloths of different sizes, which are then decorated with hand-painted geometric designs. Tapa is a key art form in Wallis and Futuna but is also found throughout Oceania. Tapa cloth can be used to make everyday objects: wallets, card cases, pouches and handbags...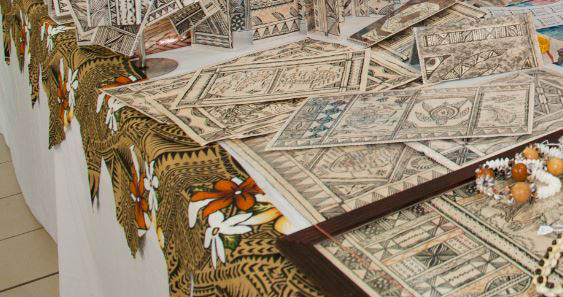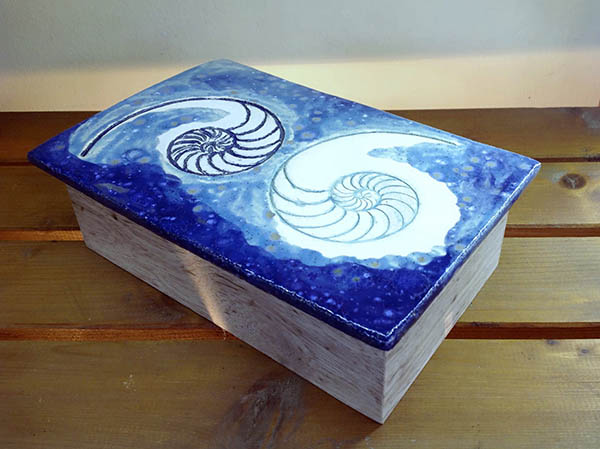 Pottery and ceramics
Raw clay comes to life in the expert hands of local artisans: skilled knowledge of techniques for shaping clay, by hand or using a potter's wheel, and a mastery of firing processes are crucial when transforming raw material into fine tableware or decorative artworks: earthenware, stoneware, glazed, unglazed or painted. The ancient tradition of Lapita pottery lives on in New Caledonia !
Gemstone cutting
A gemcutter is someone who cuts, shapes, and polishes minerals, stones and precious or semi-precious gemstones so they can be used to embellish jewellery and artworks. New Caledonia's gemcutters work in jade, serpentine, fossilised conch shell and dunite. All gems are polished to smoothly rounded forms by progressive abrasion using finer and finer grits of harder substances, a process known as tumbling. Gemstones can be cut en cabochon or facetted, depending on the desired effect and the nature of the material.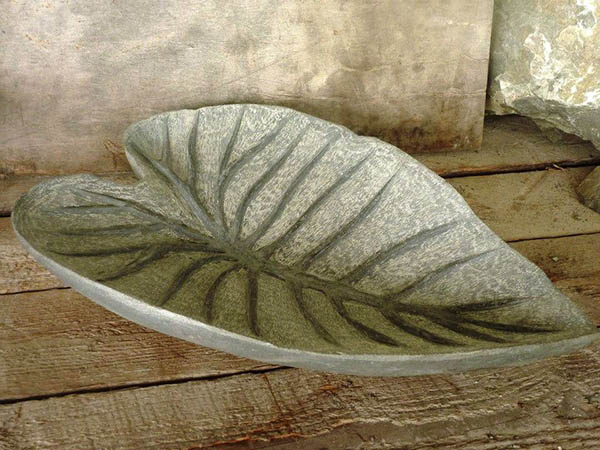 Where to buy our products
Here is a non-exhaustive list of places where you can browse and buy ARDICI products and, in many cases, meet the people who create them !
South Province
Ardici artisan workshops open to the public
Stores providing Retail outlets
Local Fairs and Festivals
Art Galleries
Hotels
Cooperative or collective outlets
Key tourist attractions
Markets
Trade Shows
Trade shows provide the perfect opportunity to check out new local talent. Shows are held throughout the year and attract a wide range of local artists and craftspeople.
Online Sales
Pop-up Sales Outlets
Some artisans only show their designs at pop-up sales outlets so it's worth keeping an eye on the schedule of events. Go to the Chamber of Trades and Crafts Facebook page for details on dates and venues for these pop-up sales, and check the Facebook pages of your favourite ARDICI artisans.
This FB group also gives details of upcoming pop-up sales :