ARDICI, your guarantee of local artist-made items.
ARDICI is a mark awarded by the New Caledonia Chamber of Trades and Crafts to locally crafted products and designs.
ARDICI is a distinctive mark designed to help purchasers in identifying genuine artist-made, handcrafted products. The mark is stamped on one-off or limited series items and is used by professionals who employ complex knowledge and skills to transform raw materials. UNESCO defines craft or artisanal products as products that are produced by artisans, either completely by hand or with the help of hand-tools or even mechanical means, as long as the direct manual contribution of the artisan remains the most substantial component of the finished product.
ARDICI is committed to promoting local crafts in a uniform manner and to ensuring they stand out from imported finished products, including imported goods styled as iconic New Caledonian products.
ARDICI also encourages responsible purchasing which benefits the local economy.

ARDICI, a range of authentic local products.
Two categories of objects can carry the ARDICI mark :
Arts and crafts products which enhance and beautify raw materials: wood, glass, stone, earth, woven items, metal, leather, fabrics, ornaments, jewellery, etc.
Craft products for the tourism market such as silk screen prints, essential oils, cosmetics, etc.
ARDICI products reflect New Caledonia's rich diversity. A wide variety of skilled techniques employed by artists from different backgrounds, inspired by different visions; a mosaic of cultural traditions reflecting New Caledonia's diverse regions : South, Loyalty Islands, East Coast, North.
ARDICI is an invitation to learn more about raw materials and time-honoured traditional production methods. The focus is on activities with strong local roots, gestures celebrating tradition yet seeking to innovate, and products often born of New Caledonia's abundant natural riches. Our local artisans draw endless inspiration from their country's landscapes, lagoon, fiery red earth and beaches. The ARDICI collective mark pays tribute to New Caledonia's unique heritage and identity, a vibrant fusion of Oceanian cultural traditions and French style.

ARDICI, a hallmark of quality.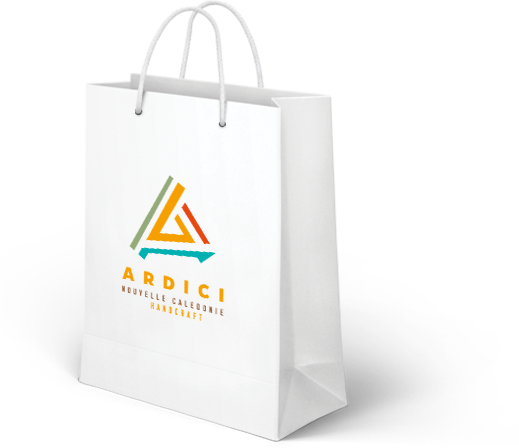 All items bearing the ARDICI mark are certified as locally handmade or handcrafted.
The ARDICI mark makes it easy to pick out craft items made in New Caledonia. At markets, fairs and trade shows, in shops and online, just look for the logo and special signage. Ardici mark-related communication tools ensure clear and reliable information.
ARDICI ensures that purchasers are able to make an informed choice. When opting for a product bearing the ARDICI logo, customers know what they are buying; the logo eliminates any risk of being misled by a product which appears superficially similar but is actually neither genuine nor locally-sourced.
The ARDICI logo plays an even more important role in the case of iconic New Caledonian items or products with powerful cultural and tourism appeal, such as the Kanak rooftop totems, customary gifts of brightly coloured cloth (known as « manou »), traditional jewellery... Such items can be subject to sometimes fierce competition from similar products, mass produced outside New Caledonia, imported in large quantities and therefore sold at lower prices.
ARDICI, a collective hallmark.
ARDICI is the result of collective efforts by local professionals eager to see their work recognised and appreciated.
The ARDICI mark is the sign and symbol of shared values : know-how, creativity, authenticity, passion and community. Values shared by the artists and craftspeople who have endorsed the ARDICI mark and promoted by the institutional and operational players who act as a relay for the mark : handcrafted goods wholesalers, culture and tourism-focussed operators... all actively supporting responsible purchasing which benefits the local economy.
ARDICI is an inclusive initiative bringing together a broad range of economic players, local names and brands, and production methods.
It involves a voluntary process engaged by the head of a business. A clear and well-argued application to be granted the ARDICI mark must be submitted to the Chamber of Trades and Crafts. Applicants must commit to comply with specific ARDICI requirements. The Awarding Committee will review each application submitted. After application compliance has been assessed and approved, the Awarding Committee grants the ARDICI mark to the applicant company; the mark may be used only to support the company's crafts business credentials or for the range of products meeting the specific ARDICI requirements.
ARDICI is a so-called « collective » mark, operated by and the exclusive property of the CMA-NC. The mark is registered with the INPI for 21 classes of products and is governed by the Intellectual Property Code; it is therefore fully protected. The ARDICI mark is awarded for use to artisans in New Caledonia's three provinces who comply with CMA-NC rules and requirements. It is neither a certification nor a quality label.
A little history …

The New Caledonia Chamber of Trades and Crafts included an initiative for the promotion and development of the local craft industry in its Blueprint for 2015-2019.

Identifying designers and craftspeople, assessing their needs, providing targeted support, establishing an inventory of products: thanks to the initiative launched in 2015, around 350 craftspeople have been registered in the CMA-NC Trade Directory. 160 encounter sessions have been held in their workshops in all three provinces.

The inventory shone a spotlight on a rich array of skills and talents, fascinating men and women who are passionate about their work but often modest and retiring. Focussing on listening to people and sharing views, the initiative also gave craftspeople an opportunity to voice their desire to raise customer awareness concerning the creations they design and produce in New Caledonia, while asserting their specific identity.

This is what led the CMA-NC, with funding from the South Province and the North Province, to establish in 2018 a collective brand dedicated to arts and crafts in New Caledonia. 80 artisans based all over New Caledonia played an active part in creating the mark.